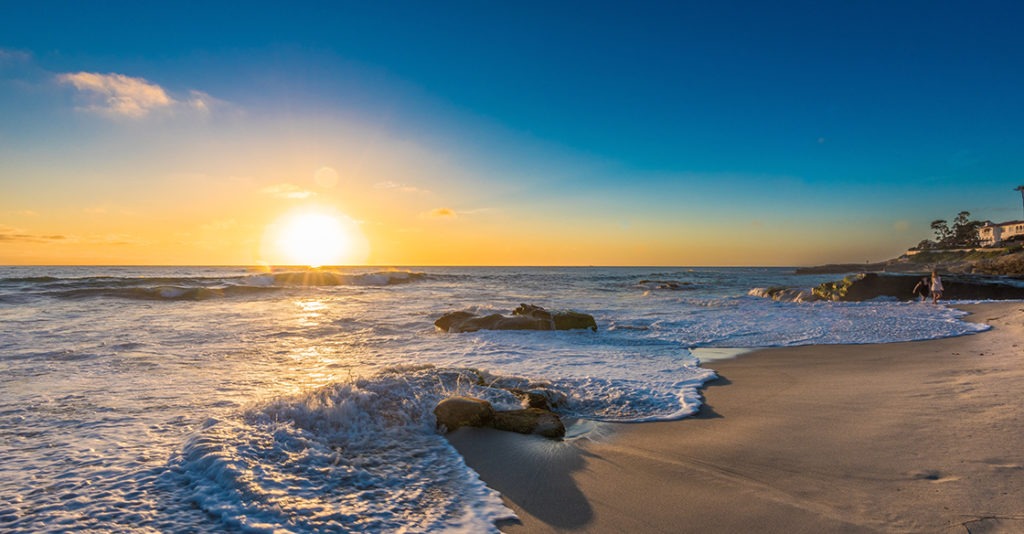 6 Places to Stay in La Jolla the Whole Family Will Love!
The pristine coastline that makes up the La Jolla shores is an irresistible destination. Traveler hail from near and far to experience the white sand beaches, captivating cliffs, and intriguing coral reef for themselves. When you come for a sunny getaway, you'll want to be sure your vacation rental is as exquisite as the landscape you've come to experience. The experts at La Jolla Vacation Rentals are here to make sure your Southern California escape is sensational. Here are six places to stay when you're traveling with the whole family on your next getaway!
Summer at the Shores
Located only four blocks from the beach and only minutes from the hottest shopping and dining experiences the area has to offer, our Summer at the Shores location is sure to please. A palm tree-lined path leads the way to this spacious and light-filled retreat. Beautiful hardwood flooring adds to the beach house atmosphere while guests will have plenty of space to roam between the master bedroom, guest room, and sprawling kitchen. Large windows frame the scenic view outdoors within the privacy of a fenced-off backyard. Feel free to enjoy the Jacuzzi or settle in for a movie night in front of the large-screen tv. Summer at the Shores never looked so good!
Beach Front Bungalow
When you're looking for the perfect, cozy place to settle down sea-side, look no further than our Beach Front Bungalow. Located directly on La Jolla Beach, this charming location provides for an extra-plush stay with plush mattresses and linens and a newly renovated kitchen with ultra-modern appliances. You'll enjoy panoramic ocean views from your large balcony and when the waves call, the property comes complete with snorkeling equipment.
Rooftop View
This two-bedroom, pet-friendly townhome is perfect for accommodating up to six guests and providing for an incredible San Diego stay and rooftop view. Walk-in closets, granite countertops, and a two-car garage are just a few of the features that make this property an ideal home away from home. While the townhome is located in a lovely, calm, and quiet neighborhood, you only have to walk a short way to find endless beach-side entertainment, shopping, and restaurant options.
Artist's Loft
When you're looking for that sky-high oasis with an artistic touch in La Jolla, our Artist's Loft property is perfect for you. Comfortable accommodations include a large bedroom with a plush mattress, a chef-ready kitchen, and a gorgeous front courtyard with all the South California charm included. Soaring ceilings additionally give an open-air feel to the entire space. Artist's Loft is close to both the beach and the village, providing guests with tons of entertainment options. When the day is done, take advantage of the rooftop deck Jacuzzi and feel free to sip something sweet under the stars.
Ocean View
Nestled into the residential neighborhood of Bird Rock, our Ocean View property provides a private getaway complete with the luxurious extras to make you and your entire family feel pampered. This 4-bedroom home comes complete with an outdoor courtyard, BBQ, and amazing views wherever you turn! Bright, airy, and detailed with beach décor and charm, it's a property that makes you feel right at home in La Jolla.
Sunny Daze
This white picket fence property in Bird Rock is an ideal getaway nestled away from the hustle and bustle but still close enough to easily access the village. This open floor plan layout provides plenty of space with guests enjoying 3 bedrooms to choose from. Within walking distance from incredible restaurants and just around the corner from the beach, Sunny Daze brings the charm while you make the memories.
La Jolla Calling
When your next La Jolla vacation awaits, make sure to reach out to the team at La Jolla Vacation Rentals to help pick your perfect beach-side property. Contact us today to start planning your next sunny getaway!